The same faculty that teach in the IU Kelley on-campus programs also teach in the Kelley Online program. The Kelley Direct Online program also still includes live case studies within every in-residence week, offers global and domestic immersions, and focuses on quality student experiences.
The Kelley Direct Online MBA now offers students 50 percent electives, seven majors, and a signature integrated core experience focused on business fundamentals.
More Electives for a More Customized Student Experience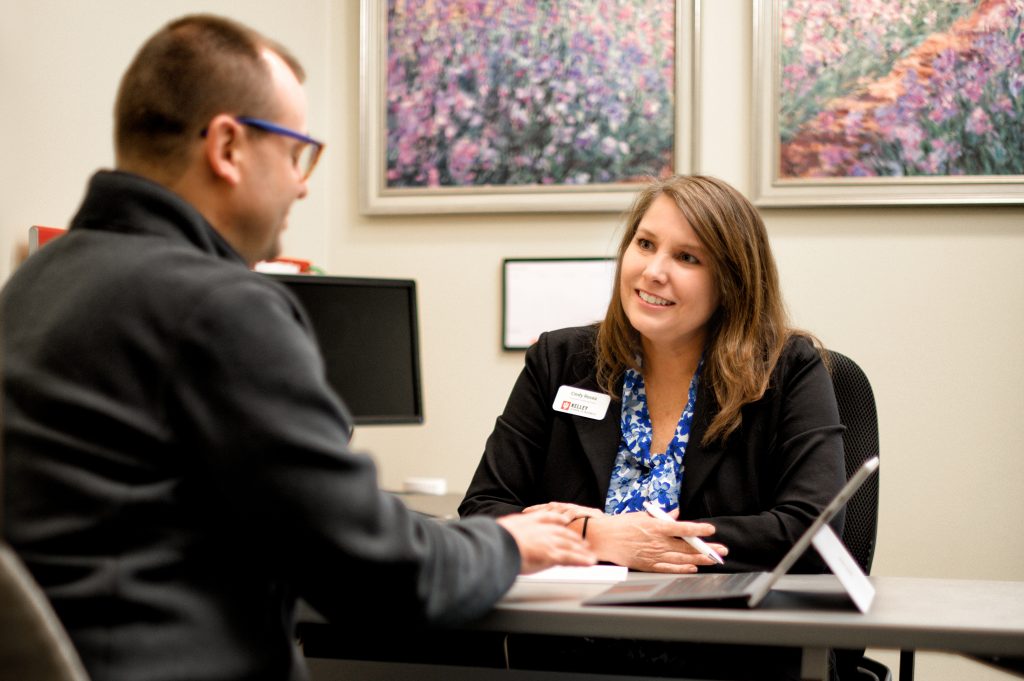 Candidate s with specialized knowledge are more valuable than a general management MBA candidates. So the Kelley Online MBA program has drastically increasing the number of electives offered.
The new online MBA, which launches this fall, requires students to complete 27 credit hours of core coursework and 27 credit hours of electives—a 50/50 split. The previous format allowed for just 12 elective credits. The increase—with at least ten different electives in each of seven disciplines—results in a far more customizable student experience that's aligned with both student and employer expectations.
Breaks down the core curriculum into three blocks: understanding markets and institutions; delivering value through functional excellence; and creating and sustaining competitive advantage. Each block includes a trio of 12-week courses with eight live sessions each that leverage technology to get the content out synchronously and asynchronously.
Core 1: Business law and ethics, economics, and organizational behavior.
Core 2: Operations management, marketing management, and financial management.
Core 3: Digital tech and innovation, developing strategic capabilities, and an integrative live case experience.
There's a little more overall work. Online students now have to complete a total of 54 credits compared to 51.
However, the hope is that this increased workload will result in MBA students from a wider variety of backgrounds choosing the program thanks to the depth and breadth of their new course offerings, which includes seven new majors:
Business Analytics

Entrepreneurship & Innovation

Finance

Global Supply Chain Management

IT Management

Marketing

Strategic Management
These majors allow students to choose the curriculum that best reflects their interests and career goals. Now, it's possible to go deep into a specific business area or industry in a way that wasn't possible before, providing students with a way to optimize their resume and find the best opportunities for moving forward.
Learning Doesn't Stop Inside the Classroom. It's an Immersive Experience with Many Co-Curricular Opportunities.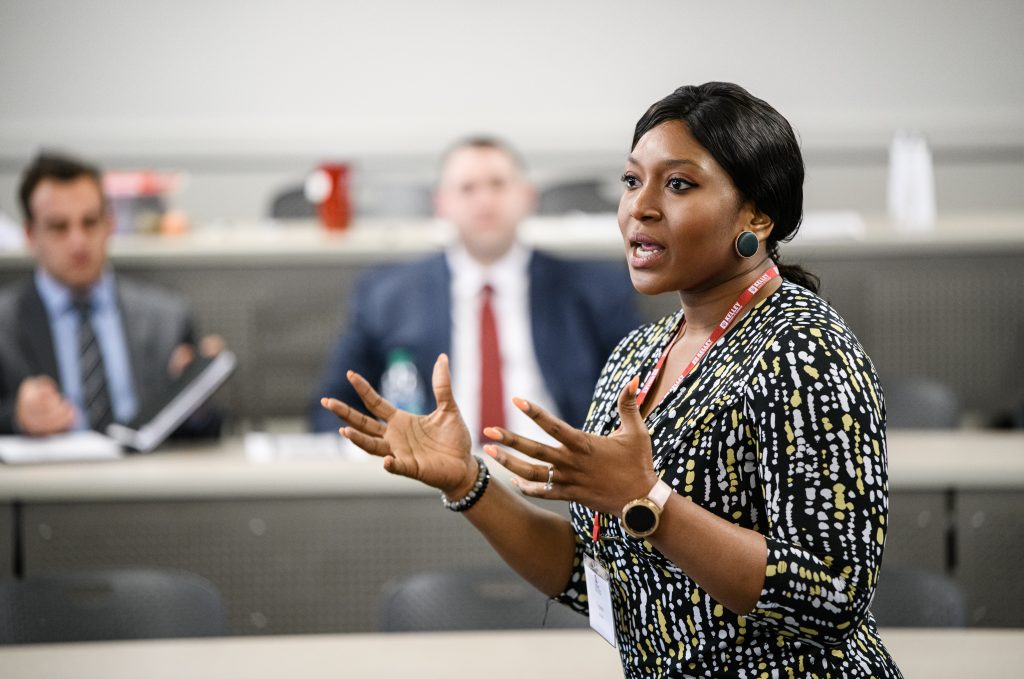 But learning doesn't stop in the classroom when you choose the Kelley Online MBA. It's an immersive experience that helps you build skills and confidence far beyond the curriculum through co-curricular opportunities.
"We know that online MBA students want to build a set of experiences that complement what they do in their online courses, but there's a lot of variability in terms of what students want to build," says Adam Herman, executive director of the Kelley Direct MBA and MS programs. "So, we offer a wide range of co-curricular opportunities that students can use to strengthen their professional profile."
There are four main types of co-curricular activities:
Experiential learning, including global and domestic immersion experiences as part of credit-bearing courses.

A robust slate of affinity groups/clubs, both identity-oriented and career field-specific.

Twice-annual Global Connect Networking Night in 25-30 cities across the globe.

A suite of high-impact offerings from the career and professional development center.
In particular, experiential learning is a hallmark of the Kelley Direct Online MBA program. From a variety of in-person courses that focus on a particular business area to global and domestic immersion experiences, experiential learning is a highlight of many students' education.
For example, there's an annual trip to Washington D.C. that focuses on public policy. Students spend a week at the Washington Campus exploring, site seeing, and learning from the best and brightest individuals in politics.
Also worth every penny are the global experiences where students will see the world and gain international economic knowledge and skills to move their careers forward.
MBA Students Are Going to Work in a Global Environment, and Being Online Doesn't Change that Fact.
These Global Immersions typically include 5-6 weeks of online content to give students a deep understanding of business in a rapidly emerging market such as Thailand, India, South Africa, or Cuba. Then students head to their country of study to visit key companies and work on a real-world project. After returning to their homes, students work on—and submit—valuable deliverables designed to meet their clients' needs.
For Elisa Stampf, that meant going to Vietnam for a consulting project.
"Our group was paired with a client and tasked to solve some of their business problems," remembers Elisa. "We faced some challenges along the way, but we were able to consult with a local MBA student who knew the language and culture and who helped strengthen our experience."
Even if students choose not to head out on a week-long international trip to a foreign country, they still have the opportunity to gain exposure to global business during their second Kelley Connect Week. During that time, they take on a business case study in a foreign country, which forces them to solve an international business problem, giving every student a global perspective.
Kelley Connect Weeks Are When Students Fall in Love with the Program
Kelley Connect Weeks are a chance to feel connected to your classmates, professors, and the program on a much deeper level. Students head to Indiana University's Bloomington campus for a week when they'll meet faculty and classmates, work on team projects, undergo intensive coursework, and attend networking events. The highlight of the week is the live business case where students work in a team to solve a real client/company problem before presenting their solution to the real company, face-to-face.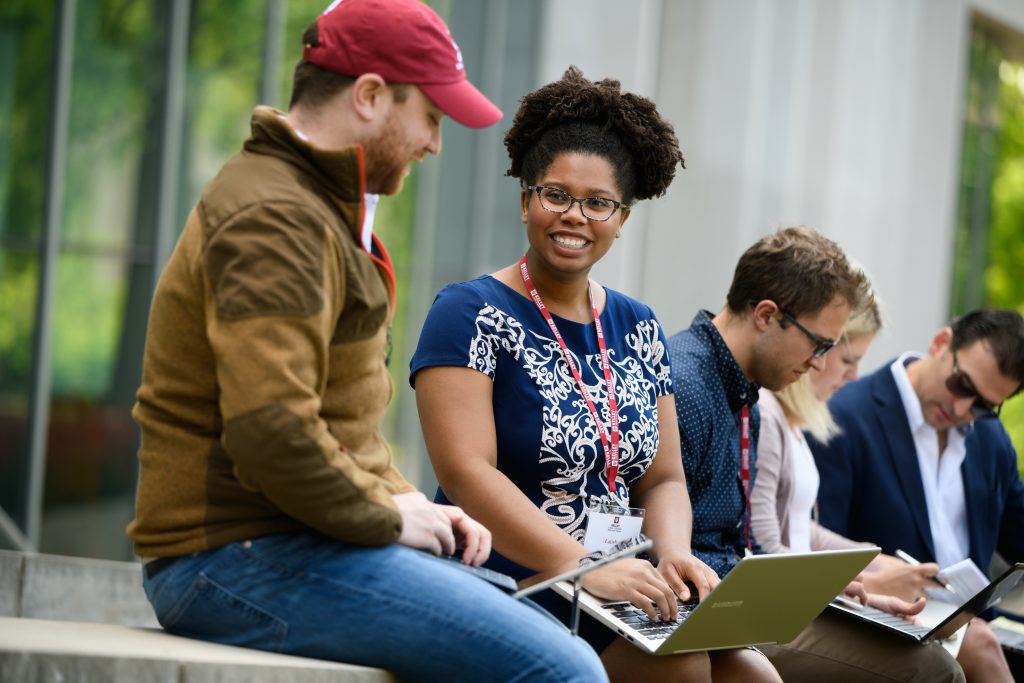 Top-Ranked Career Services Take Online MBAs to the Next Level
And making a career change is why many online MBA students choose an MBA. They're looking for a change in their function, industry, location, or promotion—a way to enhance their potential. And that's why the Kelley's Graduate Career Services are so valuable.
These career coaches regularly check in with their students one-on-one to provide insight, offer feedback, and help with overall career navigation. Combined with online materials, weekly communication, and the ability to take classes delivered by the career services office, students have endless opportunities to impact their career in both small and large ways.
With a 115,000-strong alumni network, there are thousands of ways to make meaningful career connections.
For Joe Hwalek, that meant changing his career twice throughout the course of the program. He started out working at an advertising agency, but what he really wanted was to make the switch to working for a corporation. And that's exactly what he did.
"I'm very fortunate that throughout my online MBA, I was able to move to another ad agency and then to a strategic role with Hyatt," Joe explains. "The MBA gave me the knowledge that I needed to showcase myself well and demonstrate my commitment to my career field."