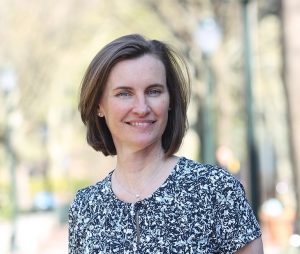 Before coming to Wharton 12 years ago, Maryellen spent over 15 years in finance in both the US and Europe at firms including Capital Group and JP Morgan. Additionally, Maryellen sits on the investment committee of the Girl Scouts of Eastern Pennsylvania, and is a member of the Forum of Executive Women.
In her role as Deputy Vice Dean, Maryellen leads the student experience outside the classroom, including Career Management, Admissions & Financial Aid and Student Life in identifying and providing services and support to enhance the student experience from admission to graduation and beyond.
Read on for her advice about the Wharton application process, choosing recommenders and what you may have to look forward to at Wharton!
What would you say to someone who's applying next fall and just getting started in the MBA application process now?
Start by thinking deeply about what your goals are and what do you hope to gain from an MBA, both professionally and personally. That's a big part of the decision process: getting to know yourself. Once you know what you want and what you hope to get out of business school, then you can then set your sights on researching programs and finding the place that best fits you. Every school is really excited to show you everything we offer, but it's important that you really take this opportunity to see if the school you're thinking of is the place for you.
What's the one thing MBA candidates should know about selecting a recommender?
We work well in stories, so it's best to make sure you find a recommender that can speak to your experiences and what you've accomplished over your career. For us, it's about the quality of the recommendation, not the title of the person who wrote it. The recommendation helps provide a window into your candidacy. We always suggest that as candidates make the request, they use the opportunity to prepare their recommenders with their career highlights, why they are interested in the program and, just as importantly, give the recommender enough time to prepare what they plan to write.
What's your program's most exciting change, development or event coming up in the year ahead?
What's most exciting from a curricular perspective is the personalization we're providing our students. Wharton focuses on providing a curriculum tailored to the individual and making the experience one that, whatever a student's aspirations are, will provide them the tools they need to develop.

One way we bring personalization into the program is by leveraging student input and data to advise on coursework and programs to help students maximizing learning and achieve their goals. This is done through the Advising Support Network (ASN). The ASN is a group of four advisors assigned to every student during pre-term. It's a student's personal "board of directors," and includes advisors from student life, career management, academics, and leadership. These four advisors help guide each student on their MBA journey, helping them to construct their individual program, connecting them to resources, and providing individual advising sessions.
Of the big trends in business education right now (tech, globalization, analytics), what are you doing or innovating in one (or all) of these spaces?
The biggest trend seems to be around specialization, and Wharton is really leading the charge with the amount of personalization a student can expect in our program. We're one of few MBA programs that offer majors. A student can come to Wharton and not only get the fundamental management and business education they need, but they can also explore other areas of interest and drill deep into a particular area of knowledge. Because we offer majors, there's also a distinct opportunity for international students to come to Wharton and obtain a STEM OPT extension by focusing their students in one of 6 majors here: Actuarial science; business analytics; business economics and public policy; business, energy, environment and sustainability; operations, information and decisions; and statistics. Students will gain the tools they need to be adaptable in business, to expand their knowledge area, and to learn from an interdisciplinary lens.
What would you like to highlight about your post-MBA career placement success?
One thing that really stands out about our graduates in terms of their post-MBA paths is the diversity of industries, companies, and roles they go into. For example, the Class of 2019, 36.9 percent of students that reported accepting an offer went into financial services. Within that sphere, there is a wide array of industries that our graduates have gone into, including 11.4 percent in private equity and 6.7 percent into investment management roles. Beyond finance, 14.9 percent of those reporting accepting an offer did so in technology which continues to be a strong area of student interest and placement for our students. Over 30 students graduating in the Class of 2019 plan to start their own business, which speaks to our students' entrepreneurial spirit.
One statistic that shows not only the impact of the Wharton experience but also the ambition and drive of our students is that many of them are switching industries or functions post-Wharton. In the Class of 2019, 54.3 percent of graduates reported changing their industry or job function. This really shows diversity not only in where students go in their careers, but where they came from and how Wharton has been the bridge between those two places.