The MBA Class of 2020 kicked off the fall semester in style earlier this month at
Cornell's Johnson Graduate School of Management
. To formally welcome the new recruits to the Cornell community, Johnson Business Feed published a comprehensive class profile, shedding light on the students who make up the incoming class.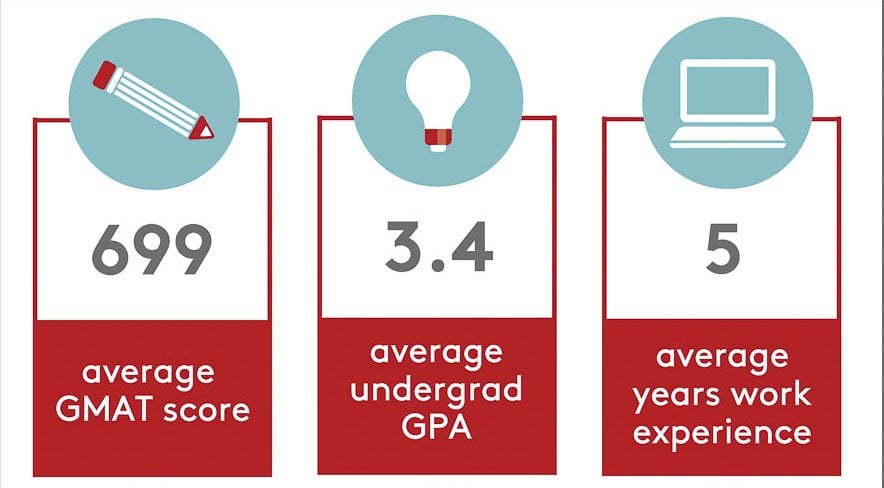 There are 280 students in the incoming students (up just slightly from last year's 277), and they boast an average GMAT score of 699 and an average undergrad GPA of 3.4. That's pretty similar to the Class of 2019, where average GMAT score was 700 and average GPA was 3.36. Average work experience also remained constant year over year, with incoming students bringing five years' experience in the workforce to bear on their business school journey.
Admissions Director Judi Byers and her team have been working hard to recruit more women to Johnson, and their efforts are paying off. Women make up a full third—33 percent—of this year's incoming class, a six-point increase over last year. The percentage of underrepresented minorities (URMs) in the Class of 2020 also grew, from 12 percent last year to 15 percent with this newest class. In total, U.S. minorities make up 32 percent of the overall class. That figure includes Asian American, African American, Native American, and Hispanic American students.
International students, though, dipped. International students made up 34 percent of last year's incoming class, but this year they account for only 27 percent. Johnson, like many of its peer schools, experienced a drop-off in international application volume amid widespread concerns around possible U.S. immigration and work visa restrictions. Still, they will bring perspectives from 40 different countries to the Johnson classroom. That's up from 38 countries represented in the second-year class. There are also fewer military veterans in this year's class—7 percent as compared to 11 percent for the Class of 2019.
In terms of undergraduate majors, former business students make up the largest slice of this year's pie—29 percent. Social science majors make up the second largest group at 21 percent, followed closely by engineers, who comprise another 20 percent of the class. Humanities majors are in the minority: They represent just 10 percent of the Class of 2020.
As for previous work experience, the vast majority of the incoming class—44 percent—falls into the category of "other." According to Johnson, this includes students who have worked in the real estate, energy, nonprofit, and transportation industries, among others. Roughly a quarter of the class—23 percent—come from finance, and another 17 percent are former consultants.
In an Instagram post, Byers shared that the Class of 2020 wasted no time getting into the spirit of things during pre-term week, adding to the school's shared wall of values and expectations. Community, impact, collaboration, excellence, and teamwork were among those she chose to highlight.