SIX CAMPUSES, TWO SCHOOLS, ONE ALLIANCE — CREATING A WORLDWIDE NETWORK UNIQUE AMONG GLOBAL BUSINESS SCHOOLS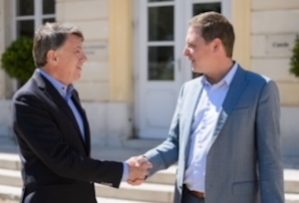 PHILADELPHIA, PA, August 23, 2018—

The Wharton School of the University of Pennsylvania

and

INSEAD

are pleased to announce the renewal of their strategic alliance through June 2021. Established in 2001, the Wharton-INSEAD Alliance combines the resources of two world leaders in management education and creates global access to unparalleled business knowledge for students, faculty, and executives worldwide.
The Alliance encompasses significant joint activities, making it one of the broadest and deepest ventures of its kind between two leading business schools in the world:
MBA programme

– Opportunity for student exchanges across campuses with access to the host school's career services during the exchange period

Research and development

– Collaborative research and teaching activities facilitated by the Wharton-INSEAD Centre for Global Research for faculty members and doctoral students

Faculty exchange

– Opportunity for faculty to participate in the academic life of the partner school in research and teaching in the host school's courses; as well as in short-term research visits

PhD student initiatives

– Collaboration in doctoral education including student exchanges, research with faculty at partner school, and in joint research conferences/consortia and summer courses
Ilian Mihov, INSEAD Dean and Professor of Economics

, says that, "INSEAD was founded on a principle of business as a force for good. Since we first opened our doors, this has guided our actions and our approach to business education. It also guides the partnerships we forge in pursuit of excellence in education. The INSEAD-Wharton Alliance is a shining example of how we use partnerships to remain true to our principles and deliver a truly transformative education experience – something no single school can provide. Together we can do more and produce more positive results for business and society."
Geoffrey Garrett, Dean of the Wharton School

, states that, "Today's world is intrinsically interconnected. A global outlook is vitally important for individuals, for economies and for the world. Through the Wharton-INSEAD Alliance we are developing leaders who will become tomorrow's global citizens. I'm delighted that this Alliance continues to grow and to support Wharton's core values of global understanding and knowledge sharing."
Thomas S. Robertson

,

The Wharton School, Executive Director of the Wharton-INSEAD Alliance,

says that, "Wharton is committed to achieving and maintaining a global footprint. A significant percentage of our faculty and students is international, our course content is deliberately international, and our faculty conduct research cross-culturally. The net result is to create and disseminate knowledge of value to global executives. The Wharton-INSEAD Alliance is an important conduit for Wharton to achieve its global ambitions by further connecting us to Europe, Asia and the Middle East."
Gavin Cassar, Research Director of the INSEAD-Wharton Alliance at INSEAD,

affirms that, "Tomorrow's business leaders must have global reach and be part of a worldwide business education and knowledge network. The INSEAD-Wharton Alliance enhances the global perspective of our management research and education. Our longstanding deep collaborative relationship opens opportunities for faculty and student exchanges, truly global learning experiences and world-class research. As Research Director for the Alliance, I look forward to building further collaborations and opening even more opportunities for both institution's faculty and students."
Six Campuses. Two Schools. One Alliance.
The Alliance reaffirms both schools' commitment to cultivate market leaders through management education, and to contribute towards global business research and education for businesses and communities worldwide.
So far, more than 1,700 MBA students and executives have benefitted from various programmes and collaborations across the schools' six campuses in Philadelphia, San Francisco, Beijing, Fontainebleau, Singapore and Abu Dhabi.